Differences and Similarities among Sampling Methods in Top of Mind Research: a Comparative Study
Abstract
Considering the major importance that a brand represents in the marketing  strategy of organizations, several firms try to use branding as a competitive differential, looking to be perceived and remembered by the consumer as a factor of influence at the moment of the purchase of the product. Business firms aim to have a brand in the top of mind position. This paper has the objective of comparing three top of mind researches done in Brazil between August of 2003 and March of 2004, aiming to investigate the existence of a pattern in the choice of the sampling methods of the researches in focus, since the sample reveals the characteristics of the public who remembers more the company's or the competitor's brand, information taken in consideration in the marketing strategy of the organizations that appeal to this type of research. The analyzed surveys have been carried through by the Datafolha Institute of Research, the Mapa Institute and the Federal University of the Paraná / Consultoria Jr. Results show that there is not a pattern in the choice of the sampling methods adopted by the researches analyzed in this study, which can be explained by the many variables involved in the choice of the sampling technique.
Key-words: Top of mind. Research methods. Sampling.
Keywords
Top of mind. Research methods. Sampling.
DOI:
https://doi.org/10.7819/rbgn.v8i22.67
Article Metrics
Metrics powered by PLOS ALM
Av. da Liberdade, 532 - São Paulo - SP Brasil Cep. 01502-001 Tel. 55 11 3272-2340

 The RBGN adopts the Creative Commons licens 
CC-BY Creative Commons Attribution 4.0
The RBGN has the financial support from Fundação Escola de Comércio Álvares Penteado - FECAP and development agencies Conselho Nacional de Desenvolvimento Científico e Tecnológico - CNPq and Coordenação de Aperfeiçoamento de Pessoal de Nível Superior – CAPES.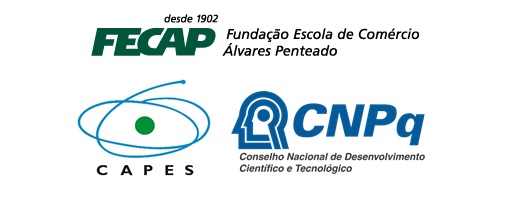 Desenvolvido por: