Alternative Definitions of the Strategic Group and Explaining Value of Differences in Results
Abstract
The relationship between strategic groups and firm performance has been recurrently analysed for more than three decades. As can be confirmed by this work, the evidence found supports as well as refutes the significance of belonging to a specific strategic group in order to explain performance differences. Hence, in this work we have tried to review previous literature to provide a reasonable explanation to unevenness found in the empirical findings. This aim obliges us, firstly, to review previous literature taking into account alternative definitions of strategic group proposed by studies rooted in different theoretical traditions, strategic positioning approach, resource-based theory and cognitive psychology. Secondly, we have posed some propositions about the performance differences explaining power of alternative strategic group definitions rooted in these different theories. To contrast these propositions we have carried out an empirical work in the electric lighting equipment producers industry, using different measures of profitability, growth and productivity and their risk adjusted associated measures. First we have conducted ANOVA and post hoc analysis, to assess performance differences, using separately the different strategic group structures identified by cluster analysis. We have also conducted a two-factor ANOVA analysis, using input market positioning and output market positioning as independent variables. Our results show that the explaining power of strategic group structures of the industry is scarce, but the results are quite better when we take into account both, input market positioning and output market positioning.  This is consistent with the hypothesis that a particular bundle of resources and capabilities fits better with a particular product-market strategy than with others.
Key words: Strategic group. Cognitive group. Competitive group. Explaining power.
Keywords
Strategic group. Cognitive group. Competitive group. Explaining power.
DOI:
https://doi.org/10.7819/rbgn.v12i34.496
Article Metrics
Metrics powered by PLOS ALM
Av. da Liberdade, 532 - São Paulo - SP Brasil Cep. 01502-001 Tel. 55 11 3272-2340

 The RBGN adopts the Creative Commons licens 
CC-BY Creative Commons Attribution 4.0
The RBGN has the financial support from Fundação Escola de Comércio Álvares Penteado - FECAP and development agencies Conselho Nacional de Desenvolvimento Científico e Tecnológico - CNPq and Coordenação de Aperfeiçoamento de Pessoal de Nível Superior – CAPES.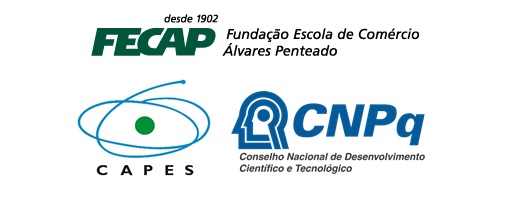 Desenvolvido por: