Characterization of Brazilian Industrial Companies' Processes and Challenges as to Innovation Management
Abstract
The goal of this study is to investigate the use of
product innovation management practices and the
challenges faced by organizations when increasing
their innovative performance. To this end, we
analyzed the relationships between internal
organizational elements, as well as the influence of
contextual factors (size, field and source of capital)
in the characterization of innovation management
systems and of barriers to innovation faced by each
company. We chose this topic due to the fact that
management processes that leverage innovative
performance are not yet fully understood, and
because of the lack of empirical studies that
analyze the reality of the practices proposed in
the organizational world, especially in Brazil.
As a conceptual basis, we presented modern
approaches to innovation, which recognize that
this should not be seen as an isolated event but
as a process. Exploratory qualitative research was
carried out by means of a multiple case study.
In it, we studied the innovation management
systems of four companies which present relevant
product development activities in Brazil. As well
as a detailed study of the elements of innovation
management, this article includes contributions
referring to the characterization of organizational
challenges faced by organizations when managing
their innovation process.
Keywords
Innovation management. Innovation management systems. Product development.
DOI:
https://doi.org/10.7819/rbgn.v16i51.1426
Article Metrics
Metrics powered by PLOS ALM
Av. da Liberdade, 532 - São Paulo - SP Brasil Cep. 01502-001 Tel. 55 11 3272-2340

 The RBGN adopts the Creative Commons licens 
CC-BY Creative Commons Attribution 4.0
The RBGN has the financial support from Fundação Escola de Comércio Álvares Penteado - FECAP and development agencies Conselho Nacional de Desenvolvimento Científico e Tecnológico - CNPq and Coordenação de Aperfeiçoamento de Pessoal de Nível Superior – CAPES.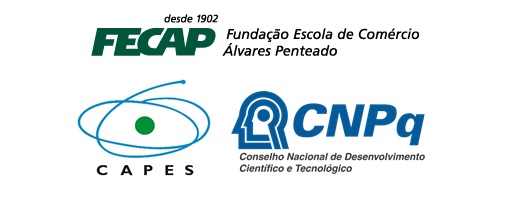 Desenvolvido por: