The Influence of Use Drivers in it Governance
Abstract
This study aims to examine how the dimensions that typify the organizational environment, here understood as drivers of the use of Information Technology (IT), influence in structuring their governance. So, the theoretical framework has relied on the relations of the IT dimensions use by market drivers, organizational, individual and IT, and in view of its governance, based on stages of decision-making IT, mapping them in the main critical decisions involving its principles, architecture, infrastructure, investment and prioritization, as well as business applications. The study has proposed a theoretical model resulting from the review of specific literature that by means of case study strategy it was applied through interviews with key decision makers of the governance structure of an institution of professional education active in the national level, coupled information based on internal records and non-participatory observation. It was found that the characteristics of IT investments have a positive influence in the key decisions on their governance, through the drivers of their use, involving the institution and that are present on the external factors that impact the major critical decisions involving the area, influencing them, except those related to the principles of IT. Also it was found that the internal context does not influence all aspects of decisions about its governance. And finally, it was noticed that information technology is not seen as an element capable of structuring the governance archetypes for its use, being defined by the institution's organizational hierarchy.
Key words: Governance of information technology. Organizational environment. Drivers of IT use.
Keywords
Governance of information technology. Organizational environment. Drivers of IT use.
DOI:
https://doi.org/10.7819/rbgn.v13i38.689
Article Metrics
Metrics powered by PLOS ALM
Av. da Liberdade, 532 - São Paulo - SP Brasil Cep. 01502-001 Tel. 55 11 3272-2340

 The RBGN adopts the Creative Commons licens 
CC-BY Creative Commons Attribution 4.0
The RBGN has the financial support from Fundação Escola de Comércio Álvares Penteado - FECAP and development agencies Conselho Nacional de Desenvolvimento Científico e Tecnológico - CNPq and Coordenação de Aperfeiçoamento de Pessoal de Nível Superior – CAPES.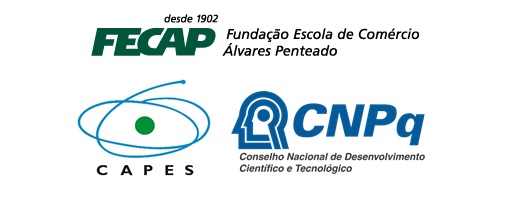 Desenvolvido por: