Organizational Discourse as a Demonstration of Power: a study with executives of modern companies
Abstract
This article describes the relationship between the executive and the organizational discourse of the modern company as it presents itself: how can the executive interfere with its creation, and the executive's degree of acceptance and contribution in disseminating the organizational discourse amongst employees. Based on concepts of seduction, fascination, submission, and voluntary servitude and working in the mythical instance, this research presents a new reading of modern imaginary and organizational discourse. Methodology includes qualitative research of semi-structured interviews with executives of two modern companies, which have been submitted to content analysis. The resulting research presents the description of executives and their relations with their organizational discourses using three categories: the compliance to the owner's will, the precious human resources, and the overestimation of one's own predicates. The main conclusions are that the executive helps build the organizational discourse and is subjected to it in a natural and voluntary manner simply because it effectively contributes to acceptance within the employee ranks by habitualness, commitment and the dream of success.
Key-words: Organizational discourse. Power relations in organizations. Modern imaginary.
Keywords
Organizational discourse. Power relations in organizations. Modern imaginary.
DOI:
https://doi.org/10.7819/rbgn.v10i29.251
Article Metrics
Metrics powered by PLOS ALM
Av. da Liberdade, 532 - São Paulo - SP Brasil Cep. 01502-001 Tel. 55 11 3272-2340

 The RBGN adopts the Creative Commons licens 
CC-BY Creative Commons Attribution 4.0
The RBGN has the financial support from Fundação Escola de Comércio Álvares Penteado - FECAP and development agencies Conselho Nacional de Desenvolvimento Científico e Tecnológico - CNPq and Coordenação de Aperfeiçoamento de Pessoal de Nível Superior – CAPES.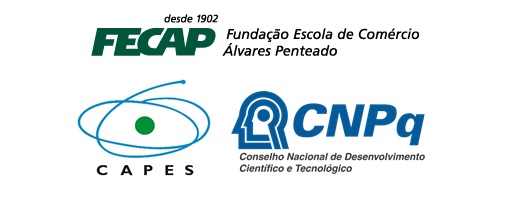 Desenvolvido por: