Learning styles and academic performance in Distance Education: a research in specialization courses
Abstract
Objective – The objective of the study is to identify whether learning styles impact academic performance and online and face-to-face assessment activities in Distance Education.
Design/methodology/approach – Learning styles were mapped using the Index of Learning Styles (ILS) of Felder and Soloman (1991). For data analysis, generalized linear models methodology was adopted; the Wald test was used to evaluate the effect of the factors.
Theoretical foundation - This research is based on cognitive theory. The model of Felder and Silverman (1988) underlies the ILS of Felder and Soloman (1991), which classifies learning styles into four dimensions: Active / Reflective; Sensory / Intuitive; Visual / Verbal; Sequential / Global.
Findings – (i) The predominant profile of the sample consists of the following styles: active, sensory, verbal and sequential; (ii) learning styles impacted academic performance only in the Active / Reflective dimension; (iii) significant differences were found between the mean of online and face-to-face assessment activities only in the Sensory / Intuitive dimension; (iv) the means of online assessment activities are larger in every styles dimensions.
Practical implications – Contributions for: (i) professors, as to how to choose and shape teaching strategies, i.e, to adopt teaching techniques that are appropriate to students' characteristics; (ii) for students, knowing their learning style is important to understand and develop new learning strategies; (iii) educational managers, who can use knowledge about learning styles to structure the LMS with better use of resources and promoting student learning.
Keywords
Learning styles; Academic performance; Distance education.
DOI:
https://doi.org/10.7819/rbgn.v17i57.1852
Article Metrics
Metrics powered by PLOS ALM
Av. da Liberdade, 532 - São Paulo - SP Brasil Cep. 01502-001 Tel. 55 11 3272-2340

 The RBGN adopts the Creative Commons licens 
CC-BY Creative Commons Attribution 4.0
The RBGN has the financial support from Fundação Escola de Comércio Álvares Penteado - FECAP and development agencies Conselho Nacional de Desenvolvimento Científico e Tecnológico - CNPq and Coordenação de Aperfeiçoamento de Pessoal de Nível Superior – CAPES.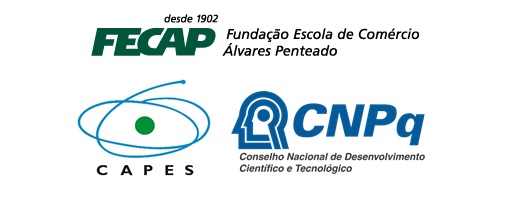 Desenvolvido por: