Challenges and Opportunities in the Management of Science Parks: design of a tool based on the analysis of resident companies
Abstract
The correct management of science parks is strategic for universities, as well as a synergistic effect for companies therein installed. Park managers have to decide, among other things, whether they create new academic spin-offs, invest in technology-based companies, or consolidate start-ups already installed in the park once incubation period is complete. These decisions have a direct impact on the university's financial capacity. The quality of decisions taken, as well as their associated risk, will depend on the tools available to park managers. Nevertheless, each park has specific characteristics and situations. Hence, managers need to have tools that adapt to the reality of the park, and which, therefore, contemplate: (1) entrepreneurs' profiles; (2) the nature and behavior of the companies installed in the park; as well as (3), the interrelationships which take place between the different players that make up the park. To have information about the current situation of companies in the park will make the decision-making processes easier for managers. Based on these ideas, this paper seeks to design and test a management tool for science parks. In its design, the tool will consider the previously mentioned criteria. Thus, from the observation and analysis of the companies installed in the park, we seek to identify the factors that affect their growth. Meanwhile, the suitability of the tool was tested at the Autonomous University of Barcelona's Research Park. The analysis of a sample of companies in the park revealed the influence that age, size and type of company financing and the profile of entrepreneurs and their propensity to grow have on the business growth of the companies at the AUB Park. Likewise, we also highlight the usefulness that the tool offers to park managers, as well as its simplicity, flexibility and adaptability for use within the framework of any Science Park model.
Keywords
Academic Spin-offs. University-company transfer. EBC. EBT. Start-up Science Park.park.
DOI:
https://doi.org/10.7819/rbgn.v15i48.1503
Article Metrics
Metrics powered by PLOS ALM
Av. da Liberdade, 532 - São Paulo - SP Brasil Cep. 01502-001 Tel. 55 11 3272-2340

 The RBGN adopts the Creative Commons licens 
CC-BY Creative Commons Attribution 4.0
The RBGN has the financial support from Fundação Escola de Comércio Álvares Penteado - FECAP and development agencies Conselho Nacional de Desenvolvimento Científico e Tecnológico - CNPq and Coordenação de Aperfeiçoamento de Pessoal de Nível Superior – CAPES.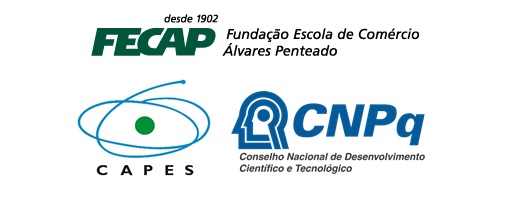 Desenvolvido por: