Mapping the Contemporary Studies on Alliances and Strategic Networks
Abstract
The competition among the companies depends on the velocity and efficience they can create and commercialize knowledge in a timely and cost-efficient manner. In this context, collaboration emerges as a reaction to the environmental changes. Although strategic alliances and networks have been exploited in the strategic literature for decades, the complexity and continuous usage of these cooperation structures in a world of growing competition, justify the continuous interest in both themes. This article presents a scanning of the contemporary academic production in strategic alliances and networks, covering the period from January 1997 to august 2007, based on the top five journals accordingly to the Journal of Citation Report 2006 in the business and management categories simultaneously. The results point to a retraction in publications about strategic alliances and a significant growth in the area of strategic networks. The joint view of strategic alliances and networks, cited by some authors as the evolutionary path of study, still did not appear salient. The most cited topics found in the alliance literature are the governance structure, cooperation, knowledge transfer, culture, control, trust, alliance formation, previous experience, resources, competition and partner selection. The theme network focuses mainly on structure, knowledge transfer and social network, while the joint vision is highly concentrated in the subjects of alliance formation and the governance choice.
Key words: Strategic alliance. Strategic network. Collaboration.
Keywords
Strategic alliance. Strategic network. Collaboration.
DOI:
https://doi.org/10.7819/rbgn.v11i31.140
Article Metrics
Metrics powered by PLOS ALM
Av. da Liberdade, 532 - São Paulo - SP Brasil Cep. 01502-001 Tel. 55 11 3272-2340

 The RBGN adopts the Creative Commons licens 
CC-BY Creative Commons Attribution 4.0
The RBGN has the financial support from Fundação Escola de Comércio Álvares Penteado - FECAP and development agencies Conselho Nacional de Desenvolvimento Científico e Tecnológico - CNPq and Coordenação de Aperfeiçoamento de Pessoal de Nível Superior – CAPES.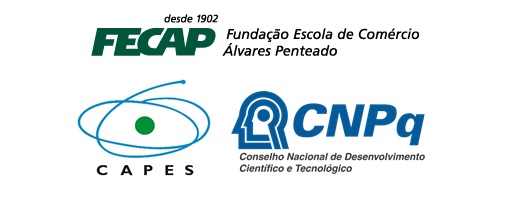 Desenvolvido por: