Delivery Levels of Support Competencies to Organizational Eco-efficiency: a case study in an electro-electronics sector industry
Abstract
This article aims to develop and implement a search tool which, through the perception of its respondents, allows assessing how eco-efficient an organization is based on the identification of delivery levels of support competencies to organizational eco-efficiency.  A mixed (qualitative and quantitative) exploratory-descriptive research was conducted, from a case study in an 'ISE Company'. A semi-structured interview and pictures of verification were used as data collection instruments. The data were analyzed via documentary analysis and triangulation of information collected. It was inferred that at the 'ISE Company' professionals at the high-level of the organizational hierarchy recognize, in part, the growth of organizational actions that contribute to sustainability, which is not fully consistent with national publications on the subject. The result of the research showed that organizational strategies addressing eco-efficiency are partially aligned with the professional performance of the organization.
Key words: Corporate sustainability. Eco-efficiency. Organizational competency.
Keywords
Corporate sustainability. Eco-efficiency. Organizational competency.
DOI:
https://doi.org/10.7819/rbgn.v14i44.948
Article Metrics
Metrics powered by PLOS ALM
Av. da Liberdade, 532 - São Paulo - SP Brasil Cep. 01502-001 Tel. 55 11 3272-2340

 The RBGN adopts the Creative Commons licens 
CC-BY Creative Commons Attribution 4.0
The RBGN has the financial support from Fundação Escola de Comércio Álvares Penteado - FECAP and development agencies Conselho Nacional de Desenvolvimento Científico e Tecnológico - CNPq and Coordenação de Aperfeiçoamento de Pessoal de Nível Superior – CAPES.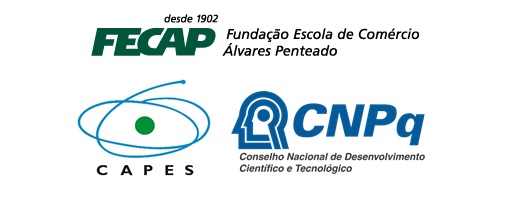 Desenvolvido por: