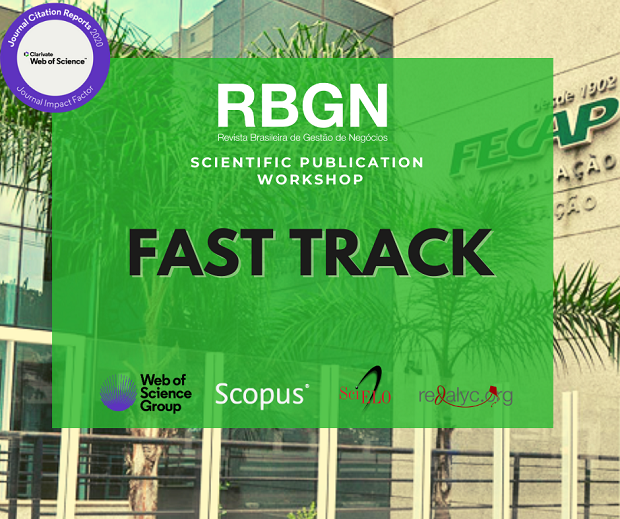 Dear academic community,
Once again we thank you for your confidence in our magazine and your great participation in our
Scientific Publication Workshop. There were more than 60 papers submissions for the sessions
PDW and 165 registrations by researchers in our activities.
After the reviews carried out by our Editors, we inform that 11 papers were selected for the
RBGN Fast Track process after considering comments received in the respective PDW session.
It is important to note that approval in Fast Track is not a guarantee of publication.
The paper, once submitted, will be sent directly to the reviewers, no longer requiring a
Desk Review, that is, the chances of the article increase, but approval is not guaranteed.
Rules for submitting papers with Fast Track:
- Authors are responsible for submitting papers following the RBGN guidelines.
- At the time of submission it is necessary to inform (as a note) that it is a paper
selected for Fast Track.
- Submissions must be made from 01/15/2021 until 02/15/2021.
Submissions that are not in this period will no longer be considered for Fast-Track.
Click here to access the selected papers
We inform that even papers not selected in this process can also be submitted to
the RBGN after considering the feedback received. We hope you enjoyed the event.
Soon we will bring more news.
Best Regards,
RBGN Team